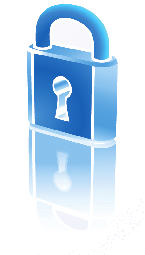 Self-Service Password Management and Password Reset
Stop taking password reset calls today and empower your users with our intuitive self-service password management solution. Complete control of which users are allowed to reset their passwords (once they are enrolled and have answered a set of challenge questions that you choose), change their passwords, and/or unlock their accounts. Help-Desk can optionally help users reset their passwords, change passwords, unlock accounts, etc.  Multi-factor authentication supported.
Request Trial Request a Quote
Features
Immediate quantifiable return on investment with reduced help-desk calls
Delegate password resets, password changes, and account unlocks to end-users
Configurable multi-factor authentication by user: admins control how users have to prove their identity by what means and in what order
Choose from email verification, phone call, SMS (text message) verification, secure mobile app identification via Authy (https://www.authy.com/app/mobile/), and/or challenge question verification
Optionally eliminate the need for enrollment for some or all of your users by having enrollment questions answered from attributes in Active Directory
Optionally allow users to provide an alternate email address and/or mobile phone number during enrollment if you don't have this data in Active Directory
Support for Windows XP, Vista, Windows 7, Windows 8, and Windows 10 login screen lockout functionality
Import enrollment data from another databases with the PeopleEnroll add-on utility or just take the data straight from Active Directory in real-time
Users (optionally) enroll through intuitive web-based form
Help-desk module verifies user identity through up to three factors of authentication
Mobile-friendly esponsive UI for Enrollment, Recovery, Help Desk: Looks great at most any screen resolution including on mobile devices or tablets
Securely expose to Internet for remote workforce using SSL
Full reporting module to track usage and ROI
Software comes with over 50 questions out of the box that you can use or you can create your own
Optionally allow users create (and answer) their own challenge questions during enrollment
Optionally allow users to choose from lists of questions and/or optionally require them to answer certain questions
Customize event notifications and auditing
View our promise to our customers
Password Management ROI Calculator
Feel free to change the default values in this calculator to match the specifics of your situation. This calculator takes inputs and computes the cost of password management without the PeoplePassword password management solution.
Costs of HelpDesk Solution
System Requirements
PeoplePassword, Web Active Directory's self-service password reset solution for Windows, is an ASP.NET web application that runs on the Windows IIS web server. Using SQL Server as the database used to store application data, PeoplePassword includes the following detailed system requirements.
Requirement
Description
Windows Server 2008 and 2008 R2, 2012 and 2012 R2
Web, Standard, Enterprise or Datacenter Edition

Windows Server 2016

Hosts PeoplePassword application. Please ensure the server is not a domain controller
and is a member server in a domain.Important Note: The server must be in the Web Server role and IIS authentication must be included.
IIS 7.5 or later
Hosts web applications
Microsoft .NET Framework version 4.5.1
Web application framework.
SQL Server 2005 or later (including Express editions)
Stores PeoplePassword configuration data, including questions and answers in an encrypted format
Windows service account with permissions to update passwords in Active Directory
Used by PeoplePassword to update passwords or unlock accounts in Active Directory
Architecture Diagram