Active Directory Consulting Services
Web Active Directory offers Active Directory consulting services and programming for IT departments and admins.  Get rid of the time you spend manually running, updating, maintaining, fixing, re-writing or trashing old scripts and scheduled tasks and let the experts at Web Active Directory give you simple and easy solutions to your Active Directory automation issues.
Contact us today for a free quote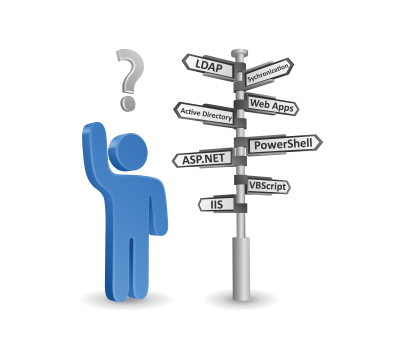 Here are some examples of the types of custom Active Directory programming services Web Active Directory can offer:
Import user accounts from an HR or SIS database or many other data stores
Synchronize user accounts and data between Active Directory and other data stores
Update legacy scripts using more powerful and intuitive PowerShell scripts
Create new web applications to provide users and admins access to Active Directory tasks
Complete programming projects not originally resourced properly
Web Active Directory specializes in Active Directory software and for nearly two decades has provided web-based Active Directory solutions. We have the expertise, knowledge and resources to develop effective applications.  Our goal is to create easy-to-use applications that will make your Active Directory management more productive.
Contact us today with your project requirements. We will provide a quote with a complete scope of work for our services.  We price based on that scope, not an open-ended situation that ends up costing twice as much as originally expected.