G Suite bulk user deprovisioning is easy with PeopleNexus.  Deprovision users either in an ad-hoc manner or in hands-free processes at whatever frequency you wish.  This is a great way to achieve consistent G Suite directory data and keep your directory aligned with your systems of record.
Business Rules
Everybody's deprovisioning process differs slightly.  You can pre-configure business rules to enable you to do what you want.  When deprovisioning users, for example, most opt to move them to a special org unit, disable them, and retain their group membership.  At the other extreme, you might want them removed immediately.  Configure different rules for different situations or stick with the defaults.
Grab Data From Multiple Data Sources at Whatever Frequency you Want
Funnel data into your update processes from multiple data sources.  Schedule processes to run with whatever frequency you want to run them hands-free or run ad-hoc jobs manually.  You define the fields that come in from your data source and how they are combined and used to fill attributes and take different actions in your directory.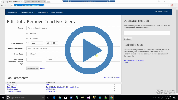 Transform Input Data Any Way You Want and Put it Where You Want
Transform data from your bulk data sources.  Typical examples might include formulating a user's email address based on their name or a group's name based on its location and the title of its manager.  Complex transformations are also possible.   After your data is exactly how you want it, you can put it into any attribute you want.
Record Keeping and Notifications
Receive optional deprovisioning notifications.  Often with bulk processes, however, you only want a notification if an exception occurs.  Configuring this is also possible.  Fully configurable email templates can include raw or transformed data from the deprovisioning process.  Different emails can be sent to different people– as many as are needed.  Full recordkeeping actions by user, object, and platform.