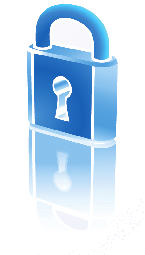 Self-Service Password Management and Password Reset
Stop taking password reset calls today and empower your users with our intuitive self-service password management solution. Complete control of which users are allowed to reset their passwords, change their passwords, and/or unlock their accounts.   Help-Desk can optionally help users through the process.  Supports multi-factor authentication.  Immediate, quantifiable return on investment with reduced help-desk calls.
Request Trial Request a Quote
Delegate Functions
Delegate password resets, password changes, and account unlocks to end-users.  Control factors of authentication required for each and in what order.  Optionally let users choose which factors they use.
Multi-Factor Authentication
Email verification, SMS/secure messaging, phone call, and/or challenge question verification are all options.  Mix and match.  Optionally ask for an alternate email address and/or phone number during the enrollment process or get it from an attribute in your directory.  The enrollment process itself is optional as you can import enrollment data, get answers to questions directly from your directory, or use factors of authentication other than challenge questions if you wish.
Challenge Questions and Answers
Over 50 questions out of the box.  Create your own questions with validation.  Get answers from users during an enrollment phase, from your directory, or import answers from your data sources.
During the recovery process,  optionally require users to answer specific questions and/or optionally let them choose from lists of questions where they must answer some number from the list.
Help Desk
Help desk functionality enables staff to more efficiently help users through their reset processes.  Optionally require users to change passwords after receiving help.  Empowering your help desk with PeoplePassword keeps your environment more secure because it makes it much more difficult for users to impersonate others when calling for help.
Reporting
Full reporting functionality tracks usage and ROI.
Record Keeping and Notifications
Optional notifications are available about application events.  Email templates are fully configurable.  You can have different emails go out to different people– as many as are needed.  Full record keeping of attempted, failed, and successful actions by the user.
Also, notify users when their password is going to expire.  Configure which users get notified at what frequency.
Configurable Security
You control how your enrollment versus recovery centers are seen or not seen by the outside world.
Lockout Screen Functionality
Support for Windows XP, Vista, Windows 7, Windows 8, and Windows 10 login screen lockout functionality.  This feature is helpful when users computers are locked.
Ask Users to Enroll or Reset Their Passwords
You can urge users to enroll in the system with automated, configurable emails that get sent a configurable amount of time before their passwords are set to expire.  Different sets of users can be sent different emails and reminded with different frequencies.
Force Users to Enroll
You can optionally force users to enroll in the system as well.
Responsive Mobile and Desktop Friendly Web Interfaces
UI looks good and is friendly no matter the device used.
Password Management ROI Calculator
Feel free to change the default values in this calculator to match the specifics of your situation. This calculator takes inputs and computes the cost of password management without the PeoplePassword password management solution.
Costs of HelpDesk Solution