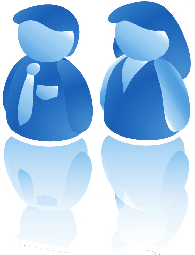 Self-Service Provisioning:  Delegate  User, Contact,  Group, and Computer Provisioning
PeopleProvision is an account, contact, group, and computer provisioning application for Active Directory, Azure Active Directory, and G Suite.  It allows you to delegate creation without having to give out full access to these systems.  Self-Service Active Directory Provisioning releases IT from mundane, error-prone data entry tasks providing configurable, simple, yet powerful forms for others to complete.  Data in your directories becomes cleaner and more secure.  No need to grant your users access to an operating system or cloud tools.
Schedule a Demonstration
Request a Quote
Role-Based Security for Delegation
Show and give the ability to perform different functions to different people by their own group membership.
Provision into Multiple Platforms
Simultaneously provision objects into Active Directory, Azure Active Directory, and G Suite in any combination you want.  (One, two, or all three at once.)  This occurs in real-time without the need to sync.
Configurable Input Forms
Completely customize your end-user's input forms they use for provisioning without the need to write any script or code.  Control validation of required fields, contents of dropdowns, employ lookups into your directory based on the first few letter your users' type, input masks, and more.  Your users could fill out a form with as few as a single field to provision objects, but with as many as you need to support the attributes your objects need and the organization of your directories.  The software comes with several default forms which work out of the box that you can duplicate and customize.
Transform Input Data Any Way You Want and Put it Where You Want
Transform data from your end-users inputs on the provisioning forms.  Typical examples might include formulating a user's email address based on their name or a group's name based on its location and the title of its manager.  Complex transformations are also possible.  For example, a user might select a student's grade level on a provisioning form and have that translated into them being created in an Active Directory OU and G Suite Org Unit Path by their graduation year which was calculated from their grade level and the current date.
After your data is exactly how you want it, you can put it into any attribute you want no matter the object you're creating and on what platform it is created.
Duplicate Handling
A provisioning action doesn't always mean an object gets created.   What if a user enters a duplicate?  You control what constitutes a duplicate in each platform you are provisioning into and what happens as a result.   Options include updating the record, ignoring duplicates (but being notified about it optionally), and always creating objects (with the software automatically creating a unique name for you).
Business Rules
Configure business rules to help organize and complete your directories the way that you want.  Business rules can be set up so that certain inputs to the provisioning process can automatically control how objects are provisioned.  For example, when provisioning a user, you might have their job title and location affect what OU they get put into, how and if their home shares, login scripts, profile paths, group membership, etc. are created.  You could even, as an example, set up business rules to control group membership but also make choosing additional groups as part of your provisioning form.
Business rules can be triggered by any input you desire in the provisioning process and can control things like:
The Active Directory OU or G Suite Org Unit Path where an object is created
A user or contact's group membership and licensing (for example their Azure Active Directory licensing)
A group's user membership
A user's home shares, profile path, login script, etc.
An object's manager
How a user's password is generated:  generate a password randomly, with values that depend on inputs to the process, to a combination of these, or a fixed value
You can have these under the control of business rules or also optionally make them inputs on the provisioning forms.
Record Keeping and Notifications
Optional notifications when an object is provisioned.  Email templates are fully configurable and can include raw or transformed data from the provisioning process.  You can have different emails go out to different people– as many as are needed.  Full record keeping of provisioning actions by user, object, and platform.
Approval Process and Workflow
Newly provisioned objects can be approved or denied if desired.
Workflow jobs can also be set-up to run sometime after an object is provisioned.  For example, you might want to perform licensing tasks on a newly created user some amount of time after they are provisioned.
PeopleFlow workflow allows jobs to be scheduled on an ongoing basis or as needed some amount of time after an application event occurs: for example, approve/deny users who have been provisioned or run licensing tasks some amount of time after they are provisioned
Responsive Mobile and Desktop Friendly Web Interfaces
UI looks good and is friendly no matter the device used.