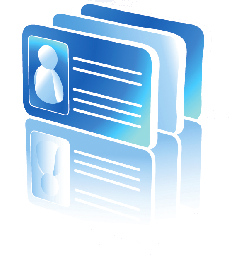 Self-service Management of Users, Contacts, Groups, and Computers Across Multiple Platforms
Self-service Active Directory user, contact, group, and computer management for Active Directory, Azure Active Directory, and G Suite.  Control what your users can see and do.  Self-service management creates return on investment by empowering users to manage changes themselves safely and efficiently.
Request Trial Request a Quote
Role-Based Security for Delegation
Show and give the ability to perform different functions to different people by their own group membership.
Manage Data Across Multiple Platforms
Manage objects in Active Directory, Azure Active Directory, and/or G Suite.
Complex Updates Made Easy
Configurable business rules make it so that very simple forms allow your end-users to safely perform functions that would otherwise include hours of data-entry.  For example, you can create and configure a form where your end-user can change a directory object user's location from a dropdown (no typos allowed).  This single change could cascade into the user's OU, group membership, and several attributes changing in the backend according to business rules you've set up.  For your end user, it's a single selection and click.  This replaces the drudgery of trying to do this manually using operating system or cloud tools.
Deprovisioning Users and Other Objects
The concept of complex updates made easy also applies to user deprovisioning.  You decide what happens when a user or other object is deprovisioned.  For example, you may want to disable them, move them to a certain OU and replace one of their attributes with their deprovision date.  What you do and how you do it is all controllable via configurable business rules.  Also use these techniques to revive deprovisioned objects.
Role-Based Security Also Controls What People Can See vs. Edit
Control what attributes people can see and edit by field.  Allow searching for and updating multiple objects at once.  Allow users to see and edit their own profile.  Create a corporate directory quickly and easily.
Group Management
Manage groups and group membership with ease.  Allow for situations where you only want people to edit/configure groups that they manage, for example.
Configurable Input Forms
Completely customize your end-user's input forms they use for updates without the need to write any script or code.  Control what they see and can edit, validation of required fields, contents of dropdowns, employ lookups into your directory based on the first few letter your users type, input masks, and more.  The software comes with several default forms which work out of the box that you can duplicate and customize.
Using lookups on your update forms
Transform Input Data Any Way You Want and Put it Where You Want
Transform data from your end-users inputs on update forms.  Typical examples might include formulating a user's email address based on their name or a group's name based on it's location and the title of it's manager.  Complex transformations are also possible.
After your data is exactly how you want it you can put it into any attribute you want no matter the object you're updating.
Transform Data in PeoplePlatform: All CAPS
Clone Objects
Clone users, contacts, groups, and/or computers.  This is useful, for example, when you have a group with hundreds of members and need to create another group with a slightly altered membership.
Move Objects
Move users, contacts, groups, and/or computers.  Search for what you need and move it where you want.
Password Change/Reset Multiple Users at Once
Allow end-users to change passwords or provide administrative password reset.
Org Chart
Display a tree-view or org chart in Active Directory, Azure Active Directory, and/or G Suite.
Image Management
Manage images in Active Directory, Azure Active Directory, and/or G Suite.
Record Keeping and Notifications
Optional notifications when an object is updated.  Email templates are fully configurable and can include raw or transformed data from the update process.  You can have different emails go out to different people– as many as are needed.  Full record keeping of update actions by user, object, and platform.
Responsive Mobile and Desktop Friendly Web Interfaces
UI looks good and is friendly no matter the device used