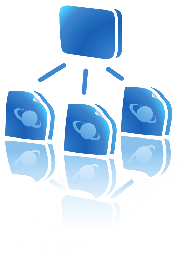 Active Directory Bulk Provisioning:  Do User Creation Work in Bulk from Configurable Data Sources
PeopleNexus is a simple-to-deploy, intuitive role-based account provisioning and update application that allows you to delegate user creation and updates in Active Directory in bulk.  Active Directory bulk Provisioning releases IT from mundane, error-prone data entry tasks.  Data in Active Directory becomes cleaner and more standardized.
Schedule a Demonstration
Request a Quote
Provision new users in Active Directory in bulk from your data sources
Deprovision users in bulk from Active Directory with the option to remove or disable them
Update existing users in Active Directory in bulk from your data sources
Optionally provision or deprovision Google Apps/Gmail Accounts, Exchange Mailboxes, and/or Office365 mailboxes also in bulk
Place users in the correct security and distribution groups and OUs based on business rules
Easy to configure business rules around how attributes are filled and how users are configured: fill virtually any attribute in Active Directory from any combination of inputs
You define the fields in the data source and how they are combined and used to fill attributes in Active Directory
Create home shares. automatically set the profile path and logon script for new accounts based on easily configurable business rules
Define what constitutes a duplicate and what to do as a result
Schedule jobs to run "hands free" or do them on an ad hoc basis
Options as to how a user's password is created: create it from your imported data or generate it randomly (with configurable length)
Business rules can be created from other rules to inherit their characteristics
Full record keeping and reporting history
PeopleFlow workflow allows jobs to be scheduled on an ongoing basis or as needed some amount of time after an application event occurs: for example approve/deny users who have been provisioned or run licensing tasks some amount of time after they are provisioned
Optional notifications to administrators and/or end users when a user is provisioned, deprovisioned, or updated– fully configurable email templates
Delegate provisioning and deprovisioning to users via web interface (one record at a time) and control how they do it with PeopleProvision
 Description
PeopleNexus is a simple-to-deploy, intuitive role-based Microsoft Active Directory account provisioning solution that allows you to create, update, and remove (or disable) user accounts in bulk along with an optional Exchange mailbox, Google Apps/Gmail account, and/or Office 365 account and home share directory. Your data source is completely configurable with the inputs from it and your provisioning rules transformable and loadable into virtually any Active Directory fields that you specify.
PeopleNexus empowers you to create and update users in your directory from data that you have in your Enterprise. Creating input and output mappings makes the process of linking Active Directory to your data sources easy without the need for your input source to have data for every field that you want to fill. Administrators have complete control over where the new account is created in active directory, group memberships, as well as home shares, Exchange mailboxes and manager information as well as control of how users are matched and updated if they already exist.
Multiple customizable email notifications can be sent to administrators and/or end-users when provisioning, de-provisioning, and update actions are completed. De-provisioning can optionally remove Google Apps or Office365 and/or Exchange mailboxes or can be set to simply disable users in Active Directory.
"Hands Free" Bulk provisioning, de-provisioning, and updates using scheduled jobs or opt for ad hoc bulk actions.
PeopleNexus System Requirements
PeopleNexus, Web Active Directory's easy-to-use solution for Active Directory bulk user account creation and provisioning, updating, and de-provisioning is an ASP.NET web application that runs on the Windows IIS web server. PeopleNexus also supports Exchange mailbox creation and home share provisioning on NTFS file systems as well as creating and deleting accounts in Google Apps and Office365. PeopleNexus includes the following detailed system requirements.
Requirement
Description
Windows Server 2008 R2 or later
Hosts the PeopleNexus web application plus PowerShell components like the Active
Directory module. Please ensure the server is not a domain controller and is a member
server in a domain. Important Note: Include the Web Server role and
Windows authentication in IIS.
IIS 7.5 or later
Hosts web applications
Microsoft .NET Framework version 4.5.1
Framework to run .NET web applications.  You can download this from Microsoft's download site at https://www.microsoft.com/en-us/download/details.aspx?id=40779.
Microsoft PowerShell 4.0
Provides a script hosting environment for working with PeopleNexus components
like Active Directory and Exchange.
SQL Server 2005 or later (including Express editions)
Stores PeopleNexus configuration data.
Active Directory 2003 or later

Minimum schema version supported by PeopleNexus. For domain functional levels
before Windows 2008 R2, you need to install the Active Directory Management Gateway Service on Server 2003, Server 2003 R2 and Server 2008 domain controllers. Windows Server 2008 R2 already includes AD Management Gateway Service
if it is a domain controller.

Windows service account with permissions to create, move and delete objects in Active Directory
Used by PeopleNexus to create, move and delete Active Directory accounts and
mailboxes and user home shares on NTFS file systems